Feather Forge Prints is the digital art division of the Feather Forge. The best email contact is: prints AT featherforge DOT com.
Current Designs
Raven Heart



Cake & Robots



Anti-Surveillance Eagle

Available At
Printfection – Feather Forge Prints – shirts, mugs, and the occasional laptop sleeve
Red Bubble – shirts and awesome stickers
Zazzle – Feather Forge Prints – shirts, mugs, postcards
Cafe Press – Feather Forge Prints – shirts and mugs
For more about the Anti-Surveillance Eagle, please read the Anti-Gorgon Alliance page.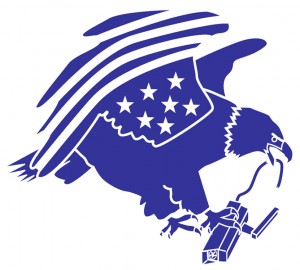 50% of what I get from sales in the Anti-Gorgon Alliance section (from any site) will be donated to the Electronic Frontier Foundation, to support their efforts to protect our civil rights in the digital age.
Privacy is an American value, it is vital for a functioning democracy, and the Anti-Gorgon Alliance is dedicated to supporting that.
In addition, you can download the art for the anti-surveillance eagle, for free. It's a zip file with a whole bunch of different file formats. Share and enjoy!